BIG GUY 28" Flat Surface cleaner Whisper Wash WW2800-4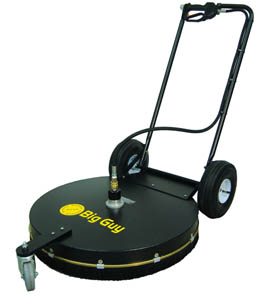 BIG GUY 28" Flat Surface cleaner Whisper Wash WW2800-4
| PN

9800610
Clean flat surfaces faster than ever before.Attaches to the high pressure hose of your pressure washer.Includes gunjet trigger control.Clean sidewalks, drives, parking lots, roofs efficiently and with less effort.The Big Guy is constructed with powder-coated aluminum and steel axis assembly.It features the Whisper Wash signature balanced and machined spray bar.Oversized 28" diameter makes this the perfect surface cleaner for those big jobs.Rated 2000 - 4000 PSI, 4 -10 GPM, up to 212 degree F.RPM 2500.
(800) 544-1188
Mailing Address:
Dirt Killer / Kränzle USA
Atlantic Pressure Washers
823 North Hammonds Ferry Rd Suite B-C,
Linthicum Heights, MD 21090

About Us

Dirt Killer Inc. is a Hamilton Associates company. We manufacture gas powered pressure washers with a Kränzle pump. We are also the EXCLUSIVE importer / wholesale of the German made Kränzle pressure washers and products.



Pressure Washer Reviews
If you've used any of products, please do write a review and share before/after photos. Will give you a coupon for your next purchase.

Need PRO services?
Check out our Services PRO Directory >>
Pressure washing services >>
Auto Detailing Services >>
Authorized Dirt Killer Dealers >>