Dirt Monkee Lil Feller 2.5 GPM 2700 PSI Honda GX200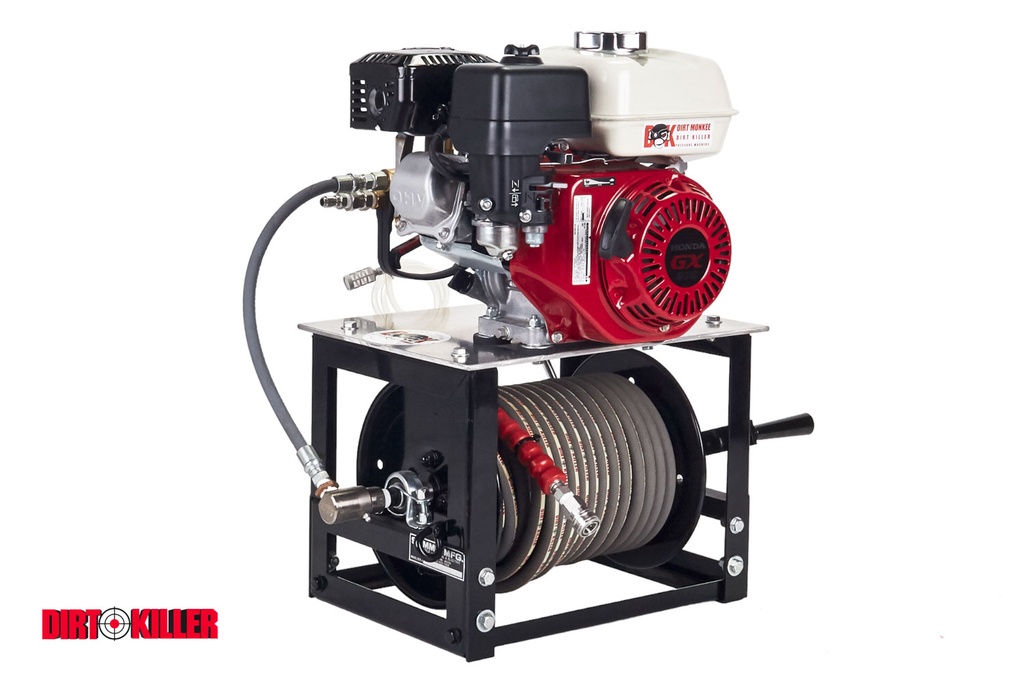 Dirt Monkee Lil Feller 2.5 GPM 2700 PSI Honda GX200
| PN

9800448
The Lil' Feller, By Dirt Killer    
Lil' Feller is as compact as it gets. Carrying every tool you need to start cleaning this unit comes ready to lock and load.
Powered by a pull start Honda GX200 and paired with a direct drive General Pump (GP) TP2530, the Lil' Feller packs a punch at 3000 Pounds per Square Inch (PSI) carried by 2.5 Gallons Per Minuet (GPM)
Resting on top of Summit's MR12 hose reel, Lil' Feller comes with 100 feet of non marking, non marring, high pressure hose. 
Built in soap injection carries soap through the hose, and delivers it to the nozzle with out hesitation. Used in conjunction with a built in Roll-Over nozzle, the Lil' Feller switches from high pressure to low pressure just by tilting the wand. 
The Lil' Feller comes standard with a 12 inch chrome lance, a swiveling trigger assembly, and a relaxed action pull trigger.
Dirt Killer, lets kill some DIRT!
(800) 544-1188
Mailing Address:
Dirt Killer / Kränzle USA
Atlantic Pressure Washers
823 North Hammonds Ferry Rd Suite B-C,
Linthicum Heights, MD 21090

About Us

Dirt Killer Inc. is a Hamilton Associates company. We manufacture gas powered pressure washers with a Kränzle pump. We are also the EXCLUSIVE importer / wholesale of the German made Kränzle pressure washers and products.



Pressure Washer Reviews
If you've used any of products, please do write a review and share before/after photos. Will give you a coupon for your next purchase.

Need PRO services?
Check out our Services PRO Directory >>
Pressure washing services >>
Auto Detailing Services >>
Authorized Dirt Killer Dealers >>