Electric DIY Guy Kit, Includes Kranzle 1122TST, Surface Cleaner, Accessories And Soaps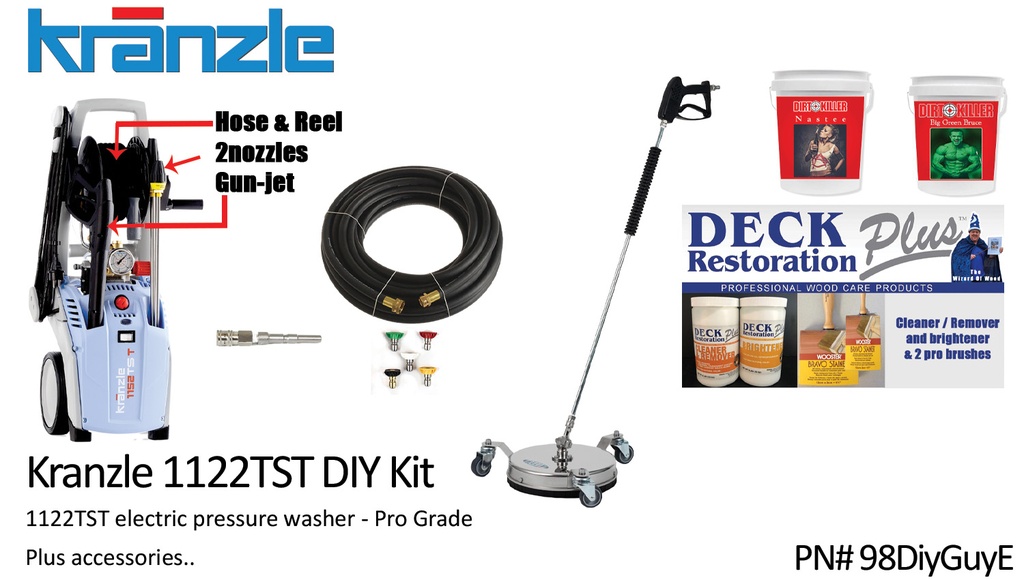 Electric DIY Guy Kit, Includes Kranzle 1122TST, Surface Cleaner, Accessories And Soaps
| PN

98DIYGUYE
This Electric DIY Kit is the ultimate enthusiast package for the DIY'er that takes care of his property. From house washing, to deck stripping, car detailing, sidewalk cleaning, driveway cleaning and more. This enthusiast kit can do it all. 

Kit includes the following components- 
Equipment- 
Kranzle 1122TST Pressure Washer
12" Silver Helix Surface Cleaner
48" Gunjet Assembly
Kranzle QC adaptor kit
3" Deck Staining Brush
5" Deck Staining Brush
50' Contractor Grade Garden Hose
4.5 Nozzle kit

Detergents-
Big Green Bruce
Nastee
Deck Restoration Plus Restorer
Deck Restoration Plus Brightener


Utilizing this entire kit you have the ability to wash your entire property from the gutter line, down the siding and out the driveway. High Powered turbo nozzle for tough jobs requiring high impact. Variable nozzle for detailed cleaning of delicate surfaces. In line down stream injection system for easy soaping application. Durable Stainless Steel Surface Cleaner for concrete cleaning and easy routine flat work. 
Supplied 50' Garden hose pairs with the pump and high pressure hose to give you a total reach of 83' from your water source. 48" gunjet assembly for extended reach or taller end users. 

The soap samples can be used as follows- 

Big Green Bruce- Generic commercial duty solvent. Makes quick work of grease or grime. Great for use in engine bays, grill stains, carbon build up, chimney staining, and general purpose degreasing. 

Nastee- Industrial degreasing applications. Oil based stains on concrete, oil based sealers, trash can degreasing and heavily traveled surfaces. 

DRP Restorer- clean and loosen wood stain. Apply and let dwell to lift loose stain, evenly wash the surface and follow up with DRP Brightener.

DRP Brightener- Apply after DRP Restorer to bring natural color and life back to wood decking. Apply and let dwell to desired color before rinsing. 

Units electrical requirements- 110V 15 Amp
Units Specs- 2.1 GPM @ 1400 PSI
Seal Rating- Approved for use with salt water. Requires heavy flood rinse of fresh water afterwards. 
Inlet rating- Up to 140*F inlet water temperature 
(800) 544-1188
Mailing Address:
Dirt Killer / Kränzle USA
Atlantic Pressure Washers
823 North Hammonds Ferry Rd Suite B-C,
Linthicum Heights, MD 21090

About Us

Dirt Killer Inc. is a Hamilton Associates company. We manufacture gas powered pressure washers with a Kränzle pump. We are also the EXCLUSIVE importer / wholesale of the German made Kränzle pressure washers and products.



Pressure Washer Reviews
If you've used any of products, please do write a review and share before/after photos. Will give you a coupon for your next purchase.

Need PRO services?
Check out our Services PRO Directory >>
Pressure washing services >>
Auto Detailing Services >>
Authorized Dirt Killer Dealers >>