Dirt Killer H200 pressure washer 2000 PSI 3.5 GPM - Honda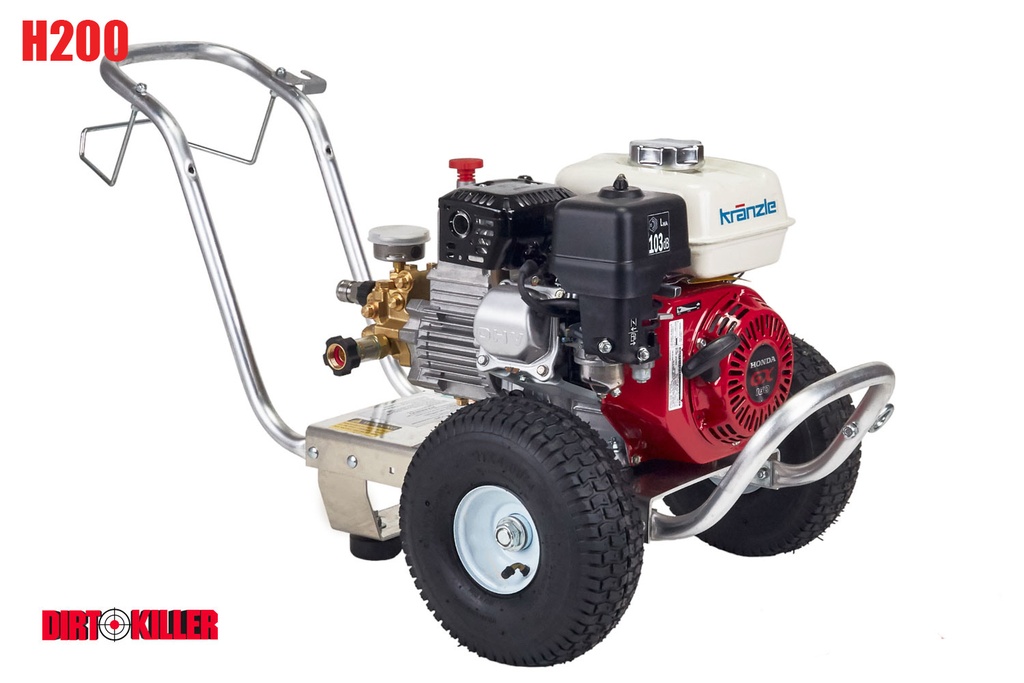 Dirt Killer
H200

Cold Water Gas Industrial Pressure Washer with 50' Wire Braided Hose, 2000 PSI, 3.5

GPM

, 5.5 HP, Aluminum Frame

Dirt Killer cold water gas industrial pressure washer. Industrial duty: Decks, buildings, crabpots, fishnets, boats, vehicles. Specifications: 2,000 PSI, 3.5 gallons per minute, Kränzle APG industrial grade pump with 10 year manifold warranty, Kränzle adjustable pressure unloader, Honda 5.5 HP LX gear-drive overhead valve engine with low oil alert, aluminum frame with pneumatic tires, brass inlet water filter. Accessories included: professional gun-jet lance, 50-feet wire braided hose, exit side chemical injection, gauge, quick coupler connections, vario-jet (multi-angle high pressure wash/soap) nozzle, Dirt Killer turbo nozzle. German designed pump self primes and is freeze proof. Cleaning power: 7,000. Measures 42-inches length by 22-inches width by 23-inches height. Metal finish.
Specifications
2,000 max adjustable PSI
3.5 Gallons per minute

Kranzle

APG

industrial grade pump with 10 year manifold warranty
Honda 5.5 HP

GX-LX

gear-drive overhead valve engine

Kranzle

adjustable pressure unloader
Low oil alert
Low-tone muffler
Aluminum frame with 10" pneumatic tires
Brass inlet water filter
Accessories Included
50' steel wire braided pressure hose with quick connect
Professional insulated trigger gun control with 36" steel lance with insulated handle and quick connects

Gauge

Exit side adjustable chemical injector with quick connect

Variojet

(high pressure wash/soap) nozzle
Dirt Killer turbo nozzle
Special Features
Pump design gives multi-hour bypass and run-dry capability preventing accidental pump damage, self primes and is freeze proof
Gear-drive Honda engine increases pump life
Dirt Killer turbo nozzle doubles cleaning efficiency
Weighs only 75 pounds