EaCo Chem One Restore Acid Based Mineral Staining Removal 1 Gallon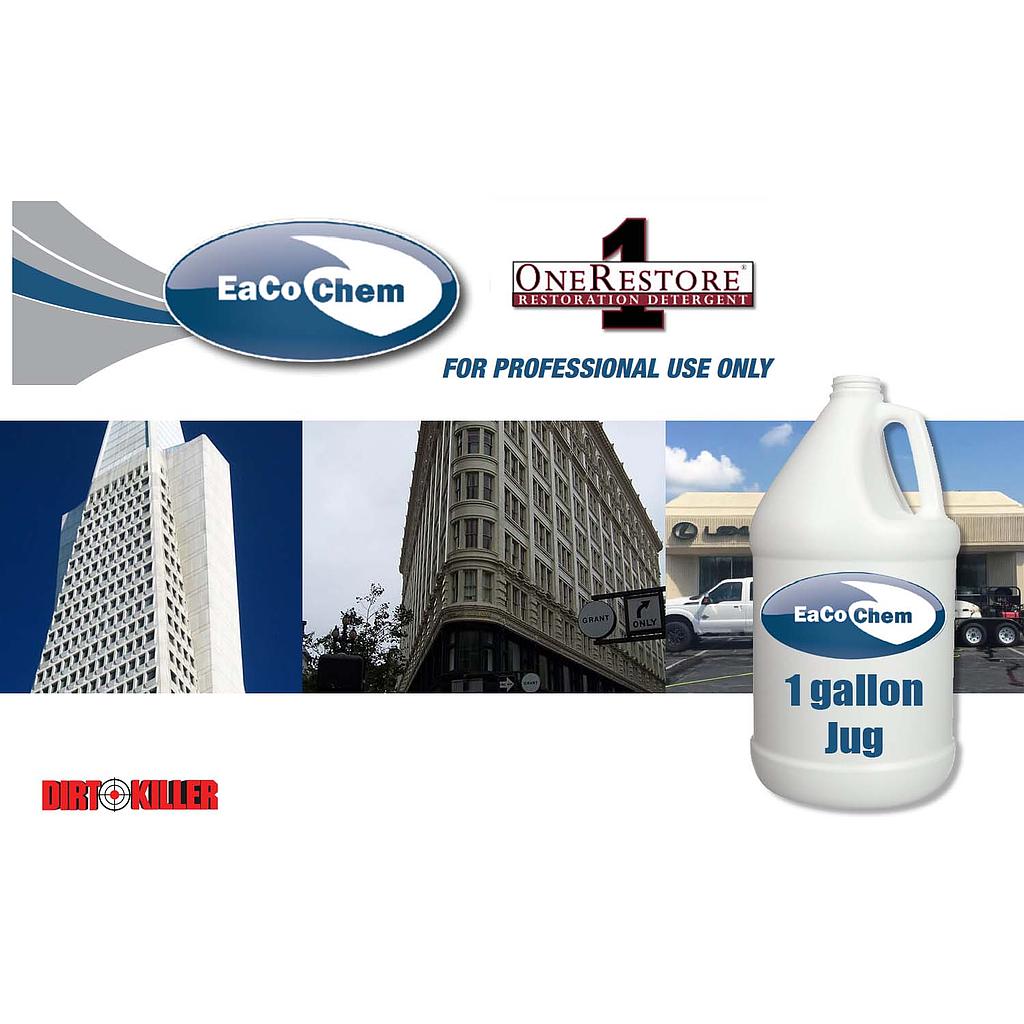 EaCo Chem One Restore Acid Based Mineral Staining Removal 1 Gallon
| PN

8100419
1 Gallon - Mineral Stain Removal
OneRestore® provides remarkable versatility, cleaning power, and safety all in one. It is appropriate for single or multiple surface restoration. OneRestore® is capable of removing the deepest stains. OneRestore® can also be used to safely remove deposits on glass and anodized aluminum. OneRestore® is a great choice for cleaning and restoring college campuses; government facilities, hospitals, and office buildings.
Advantages
• Excellent for removing virtually all stains, including mineral oxide stains, environmental pollution stains, and rust.
• Spray-on/rinse-off application process improves productivity. No scrubbing required.
• Restoration using one product simplifies the
process and reduces protection requirements.
• No harm to plants from rinsed product when used as directed.
• Safe on glass and anodized aluminum when used as directed.
• Ideal for deep stain removal from porous substrates.
• Safe for non-colored horizontal concrete, such as driveways and sidewalks.
• Biodegradable
SDS
SPEC SHEET
(800) 544-1188
Mailing Address:
Dirt Killer / Kränzle USA
Atlantic Pressure Washers
823 North Hammonds Ferry Rd Suite B-C,
Linthicum Heights, MD 21090

About Us

Dirt Killer Inc. is a Hamilton Associates company. We manufacture gas powered pressure washers with a Kränzle pump. We are also the EXCLUSIVE importer / wholesale of the German made Kränzle pressure washers and products.



Pressure Washer Reviews
If you've used any of products, please do write a review and share before/after photos. Will give you a coupon for your next purchase.

Need PRO services?
Check out our Services PRO Directory >>
Pressure washing services >>
Auto Detailing Services >>
Authorized Dirt Killer Dealers >>